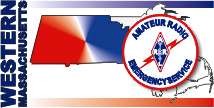 So, 2020 is finally winding down! This year has certainly been a challenge across a broad spectrum of events, interests, and areas…. and the continuing development of the Western Massachusetts ARES Section has borne its share of difficulties driven by the pandemic. As Amateur Radio operators, communications is woven into our fabric just by the nature of what we do. This is even more important relative to the ARES organization – it's our primary charter and mission.
I'd be derelict of duty if I didn't acknowledge that communications from leadership to members of our community is critically important. This pandemic has wrought quite some havoc in my trying to visit individual clubs to solicit inputs and let them know what the planned direction of our Section currently is. You are all aware that we are in the process of rebuilding a dormant ARES Section. Reasons for the past decline are varied … but we are on the way back though we've surely been hampered by setbacks in personal contact, staffing, and other unexpected obstacles.
Several folks have asked for a brief overview of what's been done and what else is coming so I'd like to take this opportunity for a quick update. You may have noticed that we have a new Section website that has just recently come out of construction. It's the same url … wma.arrl.org … but has been totally rebuilt on another web hosting service to allow us better control and functionality. A thankful shout out to Aaron – KF1G, Gil – WK1H, and Grant – KC1KCE for all their work in accomplishing this. Under the Emergency Communications menu there is an option for new members to submit a request to join us. Doing this sends an email to an administrator and me and allows the user to be added to a new members group and redirected to a place where they can assign themselves a password. This will allow entry into the main profile system where we collect important information regarding their capabilities and interests. We are also going to generate a communication asking current members to follow a similar process which will allow us to update our (sometimes ancient) information.
This was a primary concern for me … you need accurate member information to be able to assess the needs and interests of our Section and to enable accurate interfacing with municipalities and agencies that may require our assistance in various ways. That being said, I'm sure you'd like a glimpse of what's to come. Here are some of the key activities underway currently:
Continue website development to include sections covering technical, public service events calendars, and team-building with agencies served.
Develop a new and effective Notification System for Activations of all types.
Update our WMA Emergency Plan document to reflect staffing and any organizational and procedural changes.
Implement a drive for new membership and renewed participation from existing members … provide services that will enhance their efforts in Emergency Communications and technical topics to help grow their capabilities in amateur radio overall.
Enhance our current VHF / UHF net activities … add practice nets across the Section with a focus on emulated EmComm situations, and setup mentoring for interested parties to become Net Control Stations (NCS).
Establish a Section – wide Digital HF net enabling messaging across counties if needed by served agencies.
Form a Steering Committee comprised of internal (ARES) and external representation to evaluate our capabilities and provide guidance in developing new goals and objectives focused on our members' and agencies' needs.
We are developing, with the assistance of our ARRL Technical Specialists and volunteer technical 'consultants', a program of technical training sessions (Zoom and/or document based) to enhance the skills of new and existing members.  Typical topics considered are:

 Soldering, Cable Fabrication, Simple Antenna Design, Construction and Testing
Introductory and NCS net training
Go-kit needs and assembly
Portable Power Sources
Radio Testing with basic tools – DVM, Oscilloscope, Antenna Analyzer
Digital Modes Introduction / review with hands – on : NBEMS, JS8Call and WinLink
… others to be determined with YOUR inputs!
I sincerely hope you will consider joining us or renewing your previous interest in ARES. I am very interested in what would be valuable to you specifically on your journey through Amateur Radio.
Please feel free to offer your suggestions to any of our leadership team or contact me directly with comments and ideas.
We're well on the way to reviving a substantial and valuable organization that can provide important assistance to our communities and agencies. We need you to help make this a reality. Please give this your thought and consideration
With sincere wishes for a Safe, Blessed and Happy Holiday Season …
Vy 73,
Bob Meneguzzo – K1YO
k1yo@arrl.net
ARES Western Massachusetts Section Emergency Coordinator