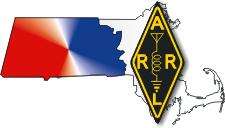 Hello everyone, I hope the summer is treating you well. The weather has certainly been cooperative for hanging around the beach, or pool, or just simply "chillin" at the ham shack working on your latest and greatest project.
This month has been fairly quiet activity-wise and that's fine. I myself have been immersed in study for a couple of things. First is the Commercial Driver License course which I'm happy to say I now have my learner's permit for that. The other is cramming to finally get my Extra license before the question pool changes again. Gee, it's only taken me nearly ten years! I'm just having trouble getting to a passing score on the practice tests. The learner's permit was a whole lot easier!
This month NoBARC will be having their annual hamfest in Adams on August 17th. Of course, the one coming up is the Northeast HamXposition / ARRL New England Convention in Boxboro on Sept 6,7,8 which is our "biggie" for the year. Tickets are on sale at the hamxposition.org website.
I will make this short and sweet. Quiet month's means nothing much to gab about. Hope the rest of you summer goes well and hope to see you at one of the 'fests'.
73 to all!
Ray KB1LRL