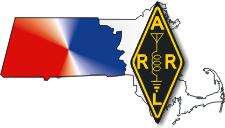 Hello there! 2018 seems to be going by and leaving a vapor trail. It weird that it has been six months since I assumed the position as Section Manager. Through this time, I have received messages of a number of you expressing encouragement and appreciation for what I am doing and that is very much appreciated.
On June 1st as you remember was the day seven years ago we had an F3 tornado hit the Monson and Springfield area which cut a swath of destruction in it's path. I ponder this thought in reflection to this event. Are we ready if it hits again? The help wanted sign is still out for a new SEC, but there is a deafening sound of crickets. My desire is to establish a formal emergency communication system that is a standard for all counties, and to start getting served agencies on board as a reliable and important resource ready to go if needed. I cannot accomplish this without a crew of willing volunteers to help establish this goal.
In May, along with the big move of my mother from Arizona to Mass. I was able to visit the WECT club meeting which demonstrated the dispatch console software they used for the marathon and was quite impressed with what that can do more multi-link and mode communication. I was impressed with the knowledge they had with UHF/VHF Motorola technologies. I also want to congratulate Gil Hayes WK1H as he is now the Official Observer Coordinator and the Affiliated Club Coordinator. These are a couple of important roles and I know Gil will do a great job.
June is also the month for our annual ritual called Field Day. This will be different for me as I will be out visiting sites and not setting up on Mount Wachusett. I encourage you to enter your field day in the ARRL website and email me where you will be so I can plan on getting there. My attempt is to visit as many as I can if not all sites. There are some sites way out there and I will be working on getting there early. I am looking forward to seeing how everyone else has theirs set up.
Along with Field Day locations, I also encourage all Assistant Section Managers to visit the sites as well. Please send a report as to your activity and any news regarding club activity and DEC and EC activities. ALL are encouraged to feed me with anything pertaining to the section so I know what's going on. Those that currently do, thank you and keep it up! Reporting will be more essential as the organization develops.
That's enough for now. Time to get off the soapbox. Hope to see you at Field Day!
73,
Ray KB1LRL