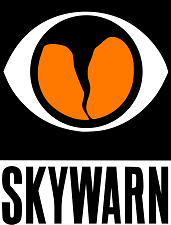 The 2018 SKYWARN Recognition Day will be on Saturday, December 1.
SKYWARN Recognition Day was developed in 1999 by the National Weather Service and the American Radio Relay League. It celebrates the contributions that volunteer SKYWARN radio operators make to the National Weather Service mission, the protection of life and property.
Amateur radio operators comprise a large percentage of the SKYWARN volunteers across the country. Amateur radio operators also provide vital communication between the NWS and emergency management if normal communications become inoperative. During the SKYWARN Special Event operators will visit NWS offices and contact other radio operators across the world. This will be the 20th year of SKYWARN Recognition Day and its anticipated that 80-100 NWS Forecast Offices will be participating once again this year.
The WX1BOX Boston/Norton Office SKYWARN station covers all the Western Massachusetts section except Berkshire County, which is covered by the WX2ALY Albany Office SKYWARN station.
WX1BOX will be on the air Friday November 30 and Saturday December 1 on the following schedule for these Western MA repeaters:
Friday November 30th, 2018:
7:00-7:30 PM: 146.970-Paxton Repeater (PL: 114.8 Hz)
Saturday December 1st, 2018:
7:00-8:30 AM: 146.595 Simplex
1:00-1:30 PM: 146.595 Simplex
1:30-2:00 PM: 145.37-Gardner/145.45-Fitchburg/147.39 Repeaters via IRLP 9122
4:00-4:30 PM: 146.970-Paxton Repeater (PL: 114.8 Hz)
WX1BOX will be monitoring the *NEW-ENG3* conference node 9123/IRLP 9123 system throughout the SRD event from 7 PM-12 AM Friday Evening 11/30/18 and from 7 AM-7 PM Saturday 12/1/18. Our HF station will be active on the various HF bands during the same time period. What bands/modes we operate on will be dependent on propagation and operator availability. We will attempt to announce the different HF frequencies will be on via our Facebook and Twitter feeds as well as on the DX Spotter/cluster system dxsummit.fi for people that wish to contact us on HF.
WX2ALY will also be on the air from 1300Z (8:00 AM EST) to 2100Z (4:00 PM EST).
For more information on SKYWARN Recognition Day, check the following:
National Weather Service SKYWARN Recognition Day page
ARRL SKYWARN Recognition Day page