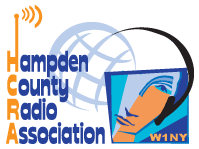 The Hampden County Radio Association will be sponsoring an amateur radio class for those looking at getting their Technician license.
The class will run on Tuesday evenings from
6:30 PM to 9:00 PM running from January 15 through February 26. The class will be held in the Auxiliary Conference Center at the Holyoke Medical Center at 575 Beech Street in Holyoke.
The class costs $30 and includes a copy ARRL Amateur Radio License Manual.
It is suggested that you pre-register for this class with HCRA Vice-President Dave Fant WM1B to ensure that a copy of the manual is available to you at the time of the class. Any other questions about the class can also be directed to Dave.
Good luck to all and hope to hear you on the air soon!