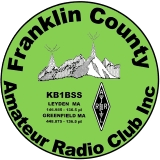 The Franklin County Amateur Radio Club is offering a General Class licensing course for those looking to upgrade from Technician Class amateur radio licenses.
Keep in mind that the General Class license question pool will be updated on July 1 of this year, so if you've been studying with the current question pool, now is a good time to get licensed before the question pool changes.
The course will cost $15 and will start on March 25 and will run Monday and Wednesday evenings from 6 PM to 9 PM for three weeks (for a total of six sessions). The classes will be held at the Greenfield Community College.
Please use the web sign up form to register for this course.
Best of luck to all of FCARC's students!