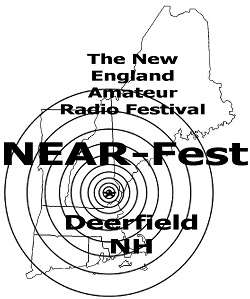 The Spring 2019 edition of the New England Amateur Radio Festival will be May 3 – 4, 2018.
The NEAR-Fest is an international event run by and for all radio hobbyists and enthusiasts, including hams", short-wave listeners, scanner buffs, vintage/antique radio fans, etc. NEAR-Fest is held twice annually, spring and fall, rain or shine, at the Deerfield Fairgrounds, Deerfield NH beginning on Friday at 0900 and ending Saturday at 1500 hours.
Admission is $10. Persons under 18 and over 80 are admitted free of charge upon presentation of government-issued ID. Inside parking is available for $10 and includes a "reasonable amount of flea market selling space" for PRIVATE INDIVIDUALS selling their own personal property. Commercial vendors must register and pay applicable fees. If you are wondering if you are a "commercial vendor" you probably are. One complimentary inside commercial space is available for clubs, estates and other "non-profit organizations" on an "as available" basis.
Overnight camping, trailer and RV hookups are available. Three food vendors provide meals and snacks at reasonable prices. The Deerfield Community Church ladies serve up a breakfast that has to be consumed to be believed. Angelino's offers hamburgers, steak, sausage submarines and other great "fair food" specialities and Patty's Polish Kitchen menu features wonderful "Mitteleuropa" cuisine. No one goes hungry at NEAR-Fest.
The program of activities and events at NEAR-Fest is extensive; a huge outdoor electronic flea market, three buildings full of commercial vendors, forums, technical seminars and symposia, demonstrations, exhibits, displays, licensing examinations, special events radio stations, a "jam session", good food, fellowship, fun and general mishigoss. NEAR-Fest is the largest event of its kind in the Northeast and has once been described as the "Woodstock of Amateur Radio".
We look forward to seeing you at NEAR-Fest.