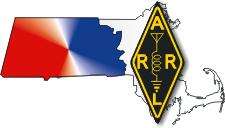 Hello everyone, I held off this month's report to include Boxboro's Hamfest which if you missed it, shame on you!
Boxboro provided pretty much the usual cast of characters and events. Most of the outdoor flea vendors were a little worried with Dorian dumping its remnants in the area but, luckily it left us at 6 am and the sun broke out and went into a great day. Some of us turned a great shade of red as a result. The flea market actually looked better than last year on Sunday as they migrate to the hamfest in Albany NY.
There was a great selection of forums that unfortunately doing the flea market restricts me from attending them and I wish Sunday was just as good to go to them. Oh well! I will point out that our SEC, Bob K1YO co hosted an SEC forum with Rob Macedo and others and soon after that I was receiving many compliments on how great his part of the talk was! Bob has continued to impress. I can't thank him enough for the effort he has done for our section. Next time you see him do the same!
On a personal note I had really one item I needed to accomplish and after 9 years finally achieved it, and that was get my Extra Class License upgrade. It's surprising how a few pieces of paper can get someone so nerved up! But now it's out of the way. Time to enjoy the privileges!
I do not know if it is just me, but I noticed QST has been later than normal. The last copy I got was a bit ruffled up. I did get and email from someone reporting the same. If you are getting them damaged or late, let the league know as well as myself.
One other thing, by a unanimous decision, (no one else stepped up!) I was elected to a second term as your Section Leader. So, the good thing is we can keep going on getting our section where it should be. I have a project or two in the works going on and am always looking for positions to be filled to round out our staff. Please give it a thought and join in the fun. It really is not rocket science. (Except for the tech specialists! Hi-hi)
That's enough gab for this round. Many clubs are starting their new season. Keep me posted as to what activities are going on. Some clubs do a great job of doing that and would love to see more.
Have a great one!
73,
Ray, KB1LRL