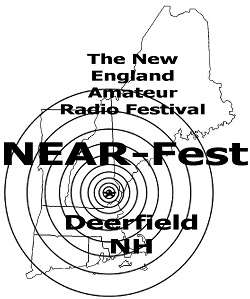 The next New England Amateur Radio Festival will be Friday and Saturday October 11 and 12.
NEAR-Fest is an international event run by and for all radio hobbyists and enthusiasts, including hams, short-wave listeners, scanner buffs, vintage/antique radio fans, etc. NEAR-Fest is held twice annually, spring and fall, rain or shine, at the Deerfield Fairgrounds, Deerfield NH beginning on Friday at 0900 and ending Saturday at 1500 hours.
The program of activities and events at NEAR-Fest is extensive; a huge outdoor electronic flea market, three buildings full of commercial vendors, forums, technical seminars and symposia, demonstrations, exhibits, displays, licensing examinations, special events radio stations, a "jam session", good food, fellowship, fun and general mishigoss. NEAR-Fest is the largest event of its kind in the Northeast and has once been described as the "Woodstock of Amateur Radio".
NEAR-Fest typically attracts attendees from the six New England states, NY, NJ, PA, MD and other states as well as from Quebec, Ontario, New Brunswick and Nova Scotia in Canada. Some attendees travel great distances; one gentleman from Los Angeles has attended fifteen events and in 2010 one radio amateur traveled from Greece to join us for the fun. It is a perennial attraction for many hams in the Western MA section.
Hope to see you there!