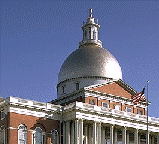 WCVB.com:
Boston — After several years and failed attempts, Massachusetts lawmakers have taken a major step toward enacting a law to restrict the use of handheld electronic devices by drivers.
State Rep. Bill Straus and state Sen. Joe Boncore issued a statement late Friday (November 15, 2019) announcing the six-member conference committee had reached an agreement on the bill, although they did not reveal the text of the final compromise.
[…]
In July, the committee appeared to have reached an impasse after Senate negotiators refused to sign off on details that House lawmakers thought had been resolved. Earlier that day, Straus and Boncore had announced an "agreement in principle," but it vanished within hours as the two sides debated wording of the bill. 
Thanks for the EMA ARRL website for the first post of this news.