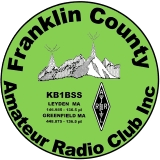 The Franklin County Amateur Radio Club will again be supporting the 10th Annual Montague Sawmill River 10K Run this year.  The event wil be on January 1, 2020.
For this event, FCARC's Leyden repeater (146.985 MHz, PL 136.5) will be used.  Due to the nature of the course, volunteers should strongly consider using mobile radios with 10W or more to ensure they can get into the machine reliably.
More details on the race itself are available at the race's participant registration website.
Due to some of passing of a few SKs that normally volunteer at this event and a couple others that moved, a few more new volunteers to this event would be helpful.  Please contact Richard KB1NOX if you can help or for more details.