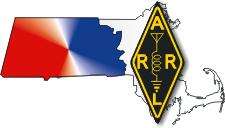 Hello Western Ma. As I write this, reports are that Puxatawney Phil did not see his shadow. Early spring? Let's see!
January 12 I met with other division officials with Fred K1VR in Springfield and Paul W1SEX, Bob K1YO, Aaron KC1CXX and myself introduced our mentoring program which included the distribution of our guide to give to people just getting their license which can be customized to their local area to provide club, and contact information. This was met with very good reviews and was well received. I also traveled to Newington on the 23rd with it and it received the same rave reviews. Unfortunately, there were some copyright protection issues with the original copy that we published here on the website, so until we edit some things to resolve that we had to remove it. I am now looking into a different structure to this and my intention is to bring back an elmering/mentoring program to get our new hams started and on the air. Hang in there.
Now that February has come upon us, our thoughts turn to Hamfest's starting with Marlboro which is Feb 15. I will be there with my goodies. It is a shame that Framingham has stopped their hamfest. It was a good one and can only hope it comes back. Mount Tom ARA Hamfest is around the corner and I plan on being there as well. As some of you know, I am in the midst of a career change and the new job I get may pull me in a different direction. Speaking of hamfests, most, if not all are aware of the change to what we used to call Boxboro which has now moved to Marlboro at the Best Western for July 24-26. The word that I have been hearing is this is a very positive change as it can accommodate a lot more there to the point that a national convention can occur there. My wish to this is it will bring back vendors that have drifted away from us over recent years.
January also is the time the League board gets together for their regular board meeting and at this time the board minutes have not been approved and released as yet. Two things of note is the departure of Howard WB2ITX. The board did not elect him and Barry Shelly N1VXY is back in as interim. There is no detail about why this all came about hopefully whatever the reasons are, it's in the best interest for the league and the members. The good thing that came out of it is our Vice Director Mike Raisbeck K1TWF was elected First Vice President for the league. Bad for us is now there is a vacancy for the Vice Director which will be BIG shoes to fill and good for the league that they now have a respected voice with a bunch of years to his credit.
That's enough razzle-dazzle for now. I hope everyone has a great February and hope to see you in my travels.
73,
Ray KB1LRL