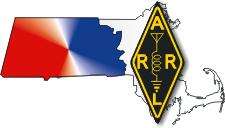 Hello fellow practitioners of the ether! I'm starting to hear rumors that Santa is only giving sanitizing supplies this year! Makes you wonder don't it?
If you haven't found out yet we now have a NE Division Vice Director and that is Phil Temples, K9HI. You may have seen him around or talked to him at the former Boxboro convention. Usually when I see him, he is either running around like a nut, resolving an issue, or talking to lots of people. Currently he is trying to put some kind of virtual replacement to our Hamvention in place. I don't know about you, but I miss those events. I really hope they come back next year.
One thing that Phil has done is launch the NE Div. website! You can see it at https://nediv.arrl.org/. This is for ALL of New England. Take a moment to have a look. A great start to the new appointment. Welcome Phil!
The Eastern section and myself have had some inquiries about Ham Callsign vanity plates from the MA. RMV Apparently new requests have been stalled due to an upgrade in the system back in 2019-ish. I do not know if it applies to other forms of vanity plates. I am curious how many out there have had this issue going on. Please let me know. The section leaders, and the ARRL really have no influence in getting this resolved and Covid likely have pushed this on a low priority as it is supported by third party software. (Unconfirmed sources, FYI) If you are having difficulty with this, best thing is to contact the Registrar of Motor Vehicles.
As you may be aware October and November will be fairly busy as ARES and MARS will be conducting Section Emergency Test (SET). MARS will be including Amateur Operators for their test. Stay tuned to this site and others for information. Anyone is welcome to participate. You can email Bob, K1YO about our SET and if you wish to join in.
I hope everyone is doing good out there and being safe. Radio is certainly a cure for loneliness and boredom if you are stuck at home. I know some of you still had vacations and hope you had a great time. Playing radio outside of your norm allows checking out new antennas, new modes etc. Hope it was worked into your plans.
I hope everyone has a great month!
73,
Ray KB1LRL