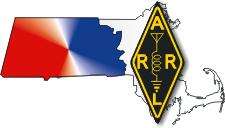 Hello once again. Sorry I'm a little late as the new job is putting a different spin on my weekdays.
As we near the end of 2020 it certainly places a lot of "what-ifs" to the new year, so many thing's that will drive our livelihoods and our lives, My wish is to find normalcy in all facets of it, as I'm sure you all do as well.
I attended a Zoom meeting with the Hampden County Radio Association along with fellow invitees Fred, K1VR, our New England Division Director and Vice-Director Phil, K9HI. This was actually their virtual Holiday party. Fred gave us some information and fielded some questions from the group. It was a fun time and appreciate Fred and Phil for joining in.
Here is a little bit of breaking news. We are working on a new website and this is actually going to combine the crusty, dusty ARES website into our new website which is under a new host. The revamp also will remove the singular owner/admin and place it with a group that will share control and adapt to personnel changes as years go on. This will also be a huge improvement on how ARES is accessed. It will be much easier to apply, report, and maintain databases. Huge thanks go to Gil WK1H, Grant KC1KCE, and Aaron, KF1G for their collective web talents for putting it together. Also, thanks to Bob K1YO for instigating this! Hi-hi. Stay tuned, more to follow.
I hope that everyone has a safe, healthy, fabulous Holiday season in the best possible way. Take some time and warm up your shack and get on the air for a while.
Stay well and 73!
Ray KB1LRL